The likelyhood that grandmas and grandpas of the future will be asked that question has increased significantly over the last 24 hours:
A planned $14-billion US federal bailout of the Big Three carmakers died Thursday on the U.S. Senate floor after negotiations between Democrats and Republicans collapsed over a dispute about wage cuts for autoworkers.

The Senate rejected the bailout 52-35 on a procedural vote — well short of the 60 votes needed to pass the plan.

Ahead of the vote, Democratic Senate Majority Leader Harry Reid said he was "terribly disappointed" to see several hours of unprecedented private talks in Washington with Senate Republicans, representatives from the country's auto industry and labour groups come to naught.

"There's too much difference between the two sides," Reid said from the Senate floor.

Asian financial markets fell sharply Friday as news of the failure emerged, with the Nikkei and Hang Seng both down more than five per cent. Reid could only speculate on the potential fallout when North American stock markets opened.

"I dread looking at Wall Street tomorrow," Reid said late Thursday night. "This could be a very, very bad Christmas as a result of what takes place here tonight."
From the
CBC
. Expect the pundits to be pouring blame onto the UAW, while ignoring management salaries and benefits (not to mention the fact that the Big Three have been making a lot of shitty and/or impractical cars of late). There's a
thread
about this aspect of the story on babble. Of course, there's still a chance that they'll go back to the table, and some or all of the automakers may be saved (for now at least). In the long run, though, the auto industry is going to have to contract a fair bit regardless; we use too many cars in our society.
Note that even before this happened, some (such as the folks at
iTulip
) were predicting unemployment rates of 25% or more among American men between 18 and 25. As Fred points out in the linked thread, unemployment in that demographic in Greece has been in that range for several years, and
we've seen where that can lead
.
As an interesting side note, the price of platinum group metals is dropping significantly, presumably owing to a likely reduction in demand for catalytic converters. Indeed, platinum is actually slightly cheaper than gold as I write this, according to Kitco: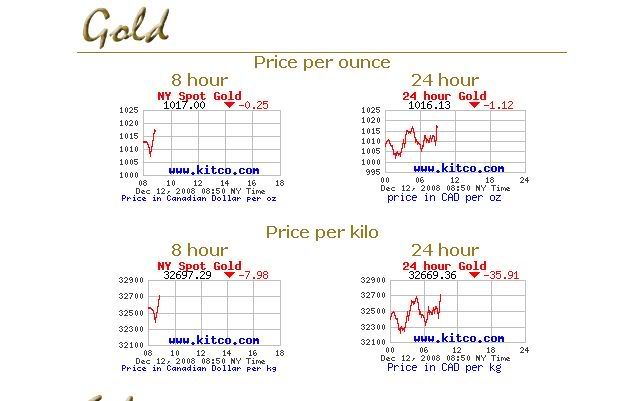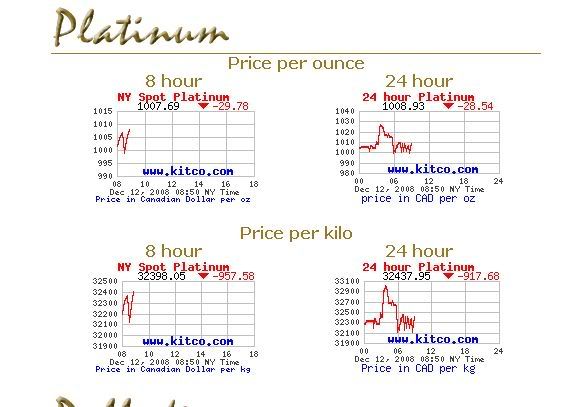 Platinum isn't the only thing falling either. The price of recyclable materials is crashing, according to the Waterloo
Record
: